Traditional Dentures 101
Dentures are oral prostheses comprised of gum-colored acrylic bases with natural-looking false teeth attached. They fit comfortably into your mouth, aid in activities such as eating and speaking, and help fill out that sunken look that missing teeth can give your cheeks and lips. Dentures come in both full and partial options depending on your unique smile. Full dentures are used for replacing entire arches of missing teeth and are kept in place in different manners depending on which teeth need replacing. Full, lower-arch dentures fit comfortably on the floor of your mouth, and full, top-arch dentures require a special denture adhesive (such as Fixodent® or POLIGRIP®) to stay in place. Partial dentures are for those who still have some or even many of their natural teeth remaining. These partial dentures are uniquely designed to restore your missing teeth and maintain your natural ones. The ways in which you can keep your partial dentures from moving around vary depending on which natural teeth you still have. One of our talented doctors will examine your mouth and design a partial denture that fits seamlessly into both your smile and lifestyle. Whichever option you and our team decide is right for you, you'll be able to enjoy the full functionality and beauty that comes with a restored smile.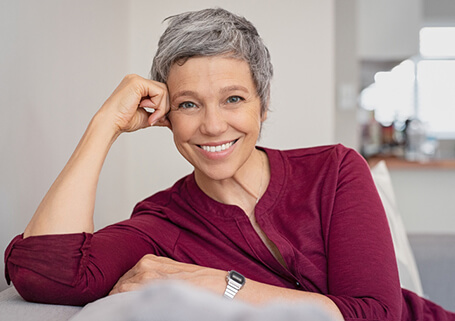 Don't break the bank for
a refreshed smile.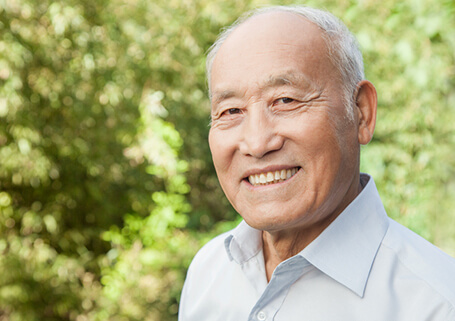 Implant-Stabilized Dentures
If you've been looking for a more permanent solution for missing teeth, dental implants could be the answer you've been waiting for. Using implants to stabilize your dentures is a sure-fire way to keep them so you can enjoy a smile that feels less mobile and more stable. Dental implants mean that you don't have to worry any longer about keeping your dentures in place! Ask about implant-stabilized dentures when you come in for your consultation.
Ready to schedule your denture consultation?
Call us at 808-354-0808
Dentures FAQs
HOW TO CARE FOR MY DENTURES?
While dentures are durable, it's still recommended that you handle them with caution. Never expose them to high temperatures as the acrylic could warp, leading to ill-fitting dentures. Be sure to brush them as recommended by our team. When they're not in your mouth, store them in water or a designated denture-soaking liquid. If the dentures dry out, it could result in a bad fit. When inserting your dentures, never force or bite them into place. If you have any more questions concerning the care of your dentures, contact us; one of our friendly team members will be happy to help.
HOW DO I CHOOSE WHICH TYPE OF DENTURE IS RIGHT FOR ME?
When it comes to dentures, there are many options. The truth is, which option is right for you all depends on your unique smile. When you schedule a consultation with us, we'll go over all of your options, so you can feel confident that the choice you're making is the best one for you. Interested in implant-stabilized dentures? Be sure to mention that at your appointment. In the meantime, learn more about dental implants here.
HOW CAN I GET AFFORDABLE DENTURES?
Here at Laulani Dental Care, we provide a wide array of financial options. Visit our financial page and find out how you can fit the high-quality dentures you need and deserve into your budget.
WHERE CAN I FIND A DENTIST NEAR ME?
We are conveniently located at the south-west corner of Keaunui Dr. and Fort Weaver Rd., by the Safeway. If you run into the Panda Express, you're close! Our friendly team is here for all of you and your family's dental needs. Contact us today to schedule your convenient appointment.