The Benefits of Modern Dental Implants
There's a reason patients prefer dental implants. In fact, there are MANY reasons! Here are just a few of them:
Dental implants look just like real teeth, and we specifically create them to match the color and shape of your other teeth.
Because they are placed in a permanent procedure, dental implants feel more natural than bridges or dentures.
Dental implants are durable and designed to last many years.
You can speak more easily without worrying about dentures that slip and cause you to slur your words.
Dental implants can have positive effects on your oral health, including preventing bone loss.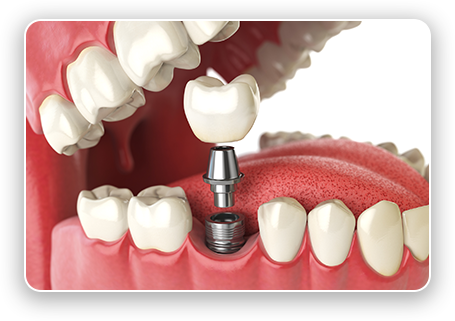 Single Dental Implant
Don't let your budget stop you
from a healthy smile.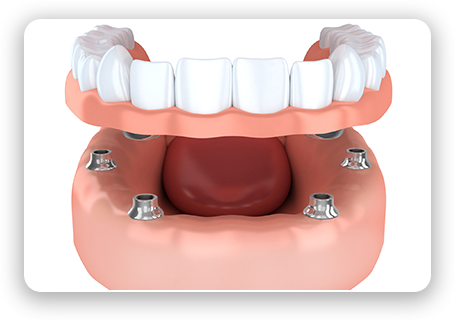 All-on-Four and Overdentures
Our Dental Implants Look and Feel Like Natural Teeth
The easiest way to think of dental implants is that they are designed around the look and function of a natural tooth. Instead of a tooth root, we place a dental implant post that bonds with your bone in process known as osseointegration. To mimic the actual tooth crown on top, we custom design a restoration. At the end of the procedure, only the natural-looking restoration will be visible, and it'll blend right in with your other teeth!
To learn more about implant dentistry and whether it's the right solution for you, you can contact our office. We're also happy to have you come in for a dental implant consultation!
Call us today at 808-354-0808
to schedule your dental implant consultation!
Dental Implant FAQs
How much are dental implants?
Since no two patients' customized dental implants are alike, the cost of treatment varies. During your consultation, we'll perform a comprehensive examination, along with the necessary diagnostics to best determine how many appointments and procedures will be needed to restore your smile. After the consultation, we will determine how much of your treatment is covered by insurance and what financial options are available to manage uncovered costs.
How long do dental implants last?
It's estimated that a dental implant can last up to 25 years with proper care. Unlike natural teeth, dental implants are not susceptible to disease; however, the health of the gums is vital to maintaining lasting implant success. Conscientious home care and regular professional cleanings and check-ups are essential elements for dental implant sustainability. Each patient's success relies upon diagnosis, planning, medical history, and a variety of other factors
Are dental implants painful?
Thanks to the use of modern sedation technique and improved at-home care, most patients report minimal pain during and after the procedure. We recommend an over-the-counter painkiller initially after to combat and discomfort or bruising. This discomfort generally only lasts for a short period of time and most patients are able to return to their normal lifestyle within 1-3 days.