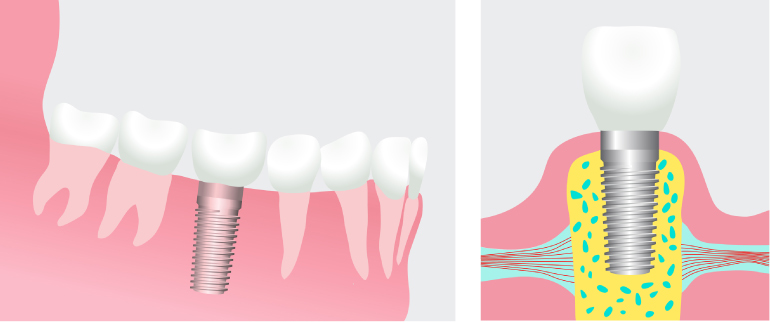 Dental implants have several advantages other tooth restoration options. They feel much more natural and they don't need more care than your real teeth. These are good reasons to consider this restoration, but what are the health benefits of dental implants?
Why dental implants help with oral health
When you lose a tooth (or many teeth), your smile isn't the only thing that's affected. Chewing with your natural teeth and roots stimulates your jawbone. This action keeps it strong and healthy. When you lose teeth, you lose the roots of the tooth, as well. Without the proper stimulation, your jawbone density weakens over time. Other consequences can follow, like decay in your other teeth. The shape of your face can change, as well.
Tooth replacement options like dentures don't replace the root. Dental implants do. These titanium posts go right into your jawbone. During the healing process, the posts fuse. We then place restorations like crowns or implant-supported dentures on top of the posts. This restores both the appearance of your smile as well as your full chewing ability. The dental implants preserve your jawbone density.
How long do dental implants last?
How long can you expect to enjoy the health benefits of dental implants? It depends on how consistent your oral health habits are, but they can last as long as 25 years. Dental implants aren't vulnerable to diseases like natural teeth are, but you still need to care for your gum health. Regular cleanings and exams at Laulani Dental Care, in addition to solid care at home, all help keep your dental implants in top shape.
Interested in restoring your smile?
If you want to learn more about dental implants and how they can protect your health, don't hesitate to contact us! Our doctors at our Ewa Beach office can walk you through the dental implant process, figure out if you're a good candidate, and answer any questions you might have. We also offer a number of payment options.
Contact Us